Blog
/
Product Insights
4 Reasons Why ProcedureFlow Is Better Than a Traditional Knowledge Base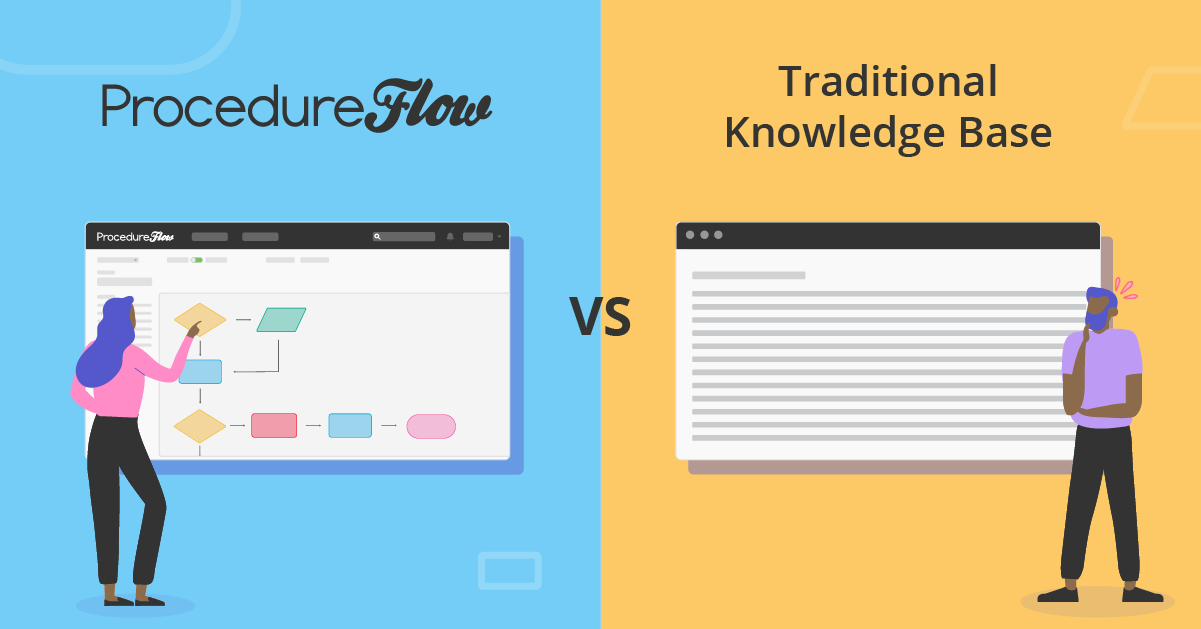 Organizations have a wide variety of knowledge bases to choose from, with the traditional knowledge base standing as the most common option.
This article will explore the distinctive features that set ProcedureFlow apart from traditional knowledge bases, including four compelling reasons why ProcedureFlow outperforms its conventional counterparts.
What is a traditional knowledge base?
A knowledge base is a repository of an organization's documentation. It is used to create, store, and retrieve valuable information for its customers and employees.
A traditional knowledge base can be classified based on two main criteria.
The primary means for representing information is in written format (pictures may be included in addition to text).
The primary means for users to locate information is through keyword search.
Examples of traditional knowledge bases
Stand-alone knowledge base
A stand-alone knowledge base is an internal tool that is used independently to access information.
Knowledge Owl

Helpjuice

GetGuru
Built-in knowledge base
Some customer relationship management tools (CRM), ticketing systems, and other critical business applications offer a traditional knowledge base as an additional function to their core product.
Salesforce Knowledge

Microsoft SharePoint

ServiceNow Knowledge Management
What are the shortcomings of traditional knowledge bases?
Traditional knowledge bases are effective when applied to simple procedures characterized by infrequent changes and low time sensitivity for employees to locate and utilize knowledge. Examples of such situations include human resources timesheet management or the use of pitch decks and pricing sheets in the sales department.
Traditional knowledge bases fall short in large operational teams that have:
Complex processes

Multiple systems

Frequent process changes

Numerous process scenarios and exceptions

High turnover

Time sensitive tasks
The insufficiency of traditional knowledge bases in catering to the needs of sizable operational teams, as detailed in the prior points, can be attributed to three main factors.
Difficulty finding information
A traditional knowledge base relies on keyword search to find information. However, it includes very few knowledge authors, no ownership, and no organic hyperlinking, meaning that it has limited ability to effectively rank searches.
Instead, it uses simple keyword matching. This leads to hundreds or thousands of potential results. Since finding accurate information becomes extremely time-consuming, employees end up creating workarounds such as asking their colleagues for help, saving files to their desktops, or going with their gut.
Difficulty comprehending information
Textual information requires an extensive amount of time to read and comprehend, especially during customer interactions. Within the context of a time-sensitive contact center environment, agents experience heightened pressure when forced to navigate entire text-based articles.
Because the information in these knowledge articles usually isn't directly connected to a specific action, authors who deeply understand the information tend to take leaps when documenting processes, assuming that it will be easy for the user to understand.
The effort involved for employees to consume and interpret textual knowledge hinders their ability to provide quick and accurate customer support. This leads employees to ask their peers for help or guess how to handle various contact scenarios, ultimately leading to inconsistency across the organization.
Information quickly becomes outdated
Every change made within an organization has a procedural impact on the contact center, including changes to product, service delivery, marketing, legal, and IT.
Traditional knowledge bases use tagging systems where knowledge articles are revisited based on preset timelines. The rapidity with which contact centers change their processes and policies exceeds the capacity of the small author groups to be able to quickly update each knowledge article.
With contact center processes changing on a weekly or even daily basis, traditional knowledge bases end up constantly being outdated, causing employees to lose confidence in the knowledge base and rely on peer-to-peer knowledge transfer instead.
How is ProcedureFlow different from a traditional knowledge base?
There are two fundamental differences in how ProcedureFlow approaches knowledge management.
Visual

l

ogic for procedural documentation
ProcedureFlow represents an organization's standard operating procedures (SOP) with hyper-linked flowcharts. The visual flows guide employees through processes by breaking down the exact process steps which include every exception and unique scenario throughout the duration of a customer interaction.
This approach enables authors to create closed loop processes for every known variation of a call type, allowing agents to easily consume and understand information. Visual process guides eliminate leaps in documentation logic by connecting every single action required to complete a process.
C

rowdsourcing model for procedural maintenance
Due to the fast-paced environment of a contact center, a small, centralized team is unable to consistently maintain a knowledge base. Conversely, the frontline employees responsible for executing processes on a daily basis are usually the first to recognize when a process is incorrect or outdated.
ProcedureFlow allows all users of the knowledge base to easily suggest changes or updates as needed. Then, the ownership group can simply approve, deny, or alter the suggestions. By consolidating approval of changes, ProcedureFlow maintains the accuracy and quality of information, while allowing a larger group of individuals to maintain the standard operating procedures.
Why is ProcedureFlow better than a traditional knowledge base?
While a traditional knowledge base aims to simplify process documentation for enterprises, ProcedureFlow's objective is to accelerate the speed at which new employees can master processes and deliver exceptional customer service.
For this reason, ProcedureFlow has built the following unique capabilities.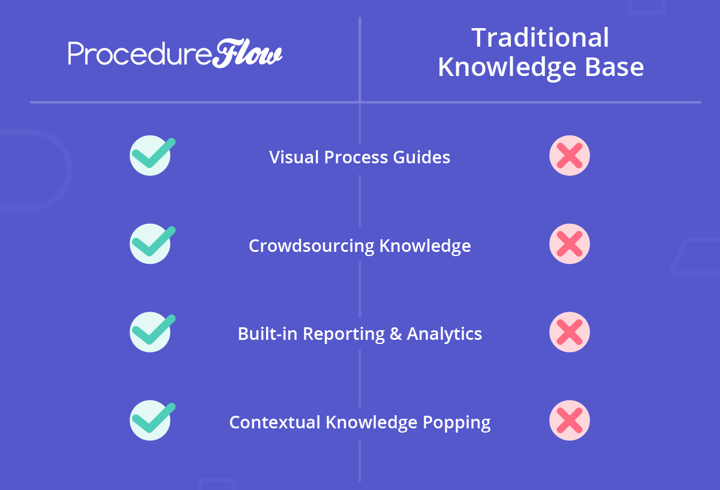 Visual process guides
ProcedureFlow turns existing text-based documentation into intuitive visual processes of every contact scenario. It is designed to provide a clear overview of the steps involved so that employees can access information quickly and easily identify their current step in the process and the next action to take.
This bird's eye view provides a comprehensive understanding of the entire procedure, making it easier for employees to identify gaps in their knowledge, reduce the likelihood of errors, and improve their overall proficiency.
Additionally, ProcedureFlow allows organizations to utilize scenario-based learning, a hands-on learning approach that simulates real-life work scenarios, in both training and coaching sessions.
Crowdsourcing

knowledge
ProcedureFlow holds a patent on the application of distributed revision control for maintaining hyper-linked flow charts. This functionality offers employees a collaborative environment for crowdsourcing knowledge by allowing multiple authors to make simultaneous contributions to a set of related processes.
The establishment of a single source of truth for all organizational processes and the ability to seamlessly collaborate on process updates ensures that operational teams maintain procedural accuracy.
Additionally, ProcedureFlow facilitates change management by enabling real-time updates to procedures in response to changing business needs, ensuring that all members of the organization have access to the most current information.
Built-in reporting & analytics
In ProcedureFlow, every flow contains a unique link, allowing the platform to collect highly targeted usage data to identify which employees are staying up to date with changes, which flows are being used most and least often, and how long employees are spending on small groups of steps within a process.
These detailed operational reports are extremely valuable for coaching sessions and continuous improvement as they provide a granular view of the consumption of an organization's standard operating procedures. By reviewing these reports, organizations can gain a better understanding of process adherence and uncover opportunities for efficiencies.
Contextual knowledge popping
ProcedureFlow can integrate with an organization's existing telephony provider to contextually select specific flows based on the transcription of the conversation. This helps guide customer interactions in real-time as agents get a continuous stream of the visual information they need, exactly at the moment they need it.
Getting started with ProcedureFlow
Take the next step toward transforming your contact center with ProcedureFlow—a next-generation knowledge base that accelerates employee proficiency from day one.
Request a demo to explore how ProcedureFlow can help your team implement visual processes, transform ROI, and drive better business outcomes.