Blog
/
Automation
Agent Assist: What It Is and How it Benefits Contact Centers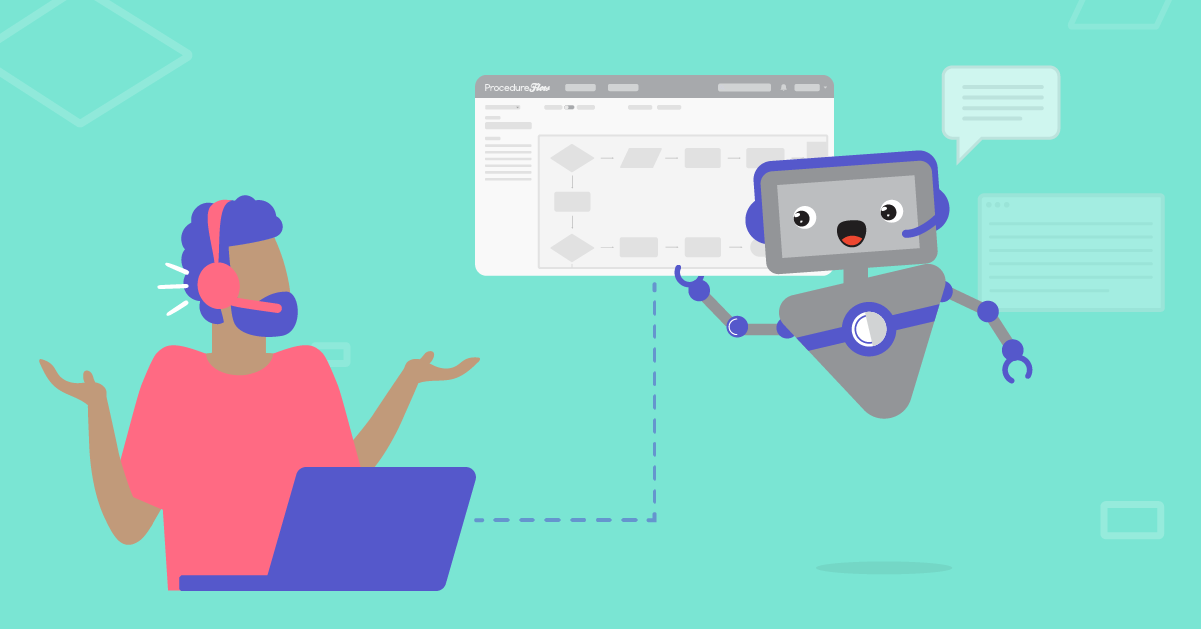 The expectation for instant solutions has become the standard of excellent customer service, with 90% rating an immediate response as important or very important.
Meeting this expectation means providing quick and accurate answers, even when faced with complex inquiries.
In this ever-demanding customer landscape, contact center agents find themselves under mounting pressure as they must handle an influx of highly complex calls and call volumes.
But what if you could bridge this critical gap between evolving customer expectations and agent efficiency?
Introducing the power of AI with Agent Assist.
What is Agent Assist?
Agent Assist is a software application with a powerful search function capability that analyzes customer inquiries, finds contextually relevant information, and offers suggestions in real-time.
It solves the frustrating task of manually searching through crowded knowledge bases by instantly extracting information and bringing the knowledge to the agent.
With Agent Assist finding solutions to customer problems, agents can focus on the customer interaction instead of wasting valuable time placing them on hold while searching for answers.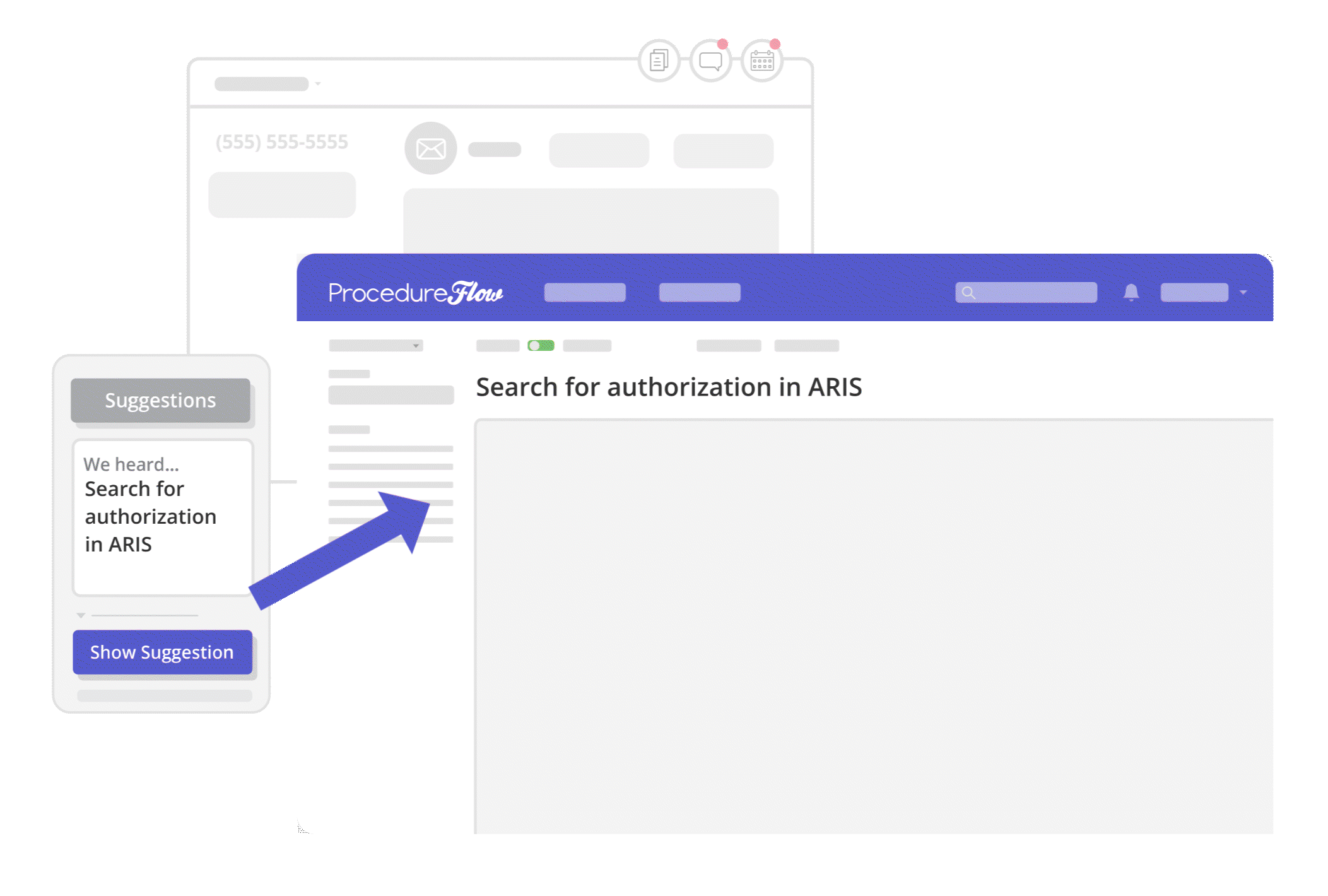 How does Agent Assist work?
Agent Assist uses artificial intelligence (AI), machine learning, speech recognition, and natural language processing to analyze the context of a conversation.
As part of a unified desktop, Agent Assist is integrated with the organization's knowledge base, allowing it to access and locate contextually relevant information and trigger suggestions in real-time.
When Agent Assist listens in on a customer call, it gathers specific phrases and keywords and conducts a search through the knowledge base based on the context of the inquiry. It then provides precise guidance to the agent, suggesting a solution and indicating exactly where to find it in the knowledge base.
For more information on the capabilities of Agent Assist and other integrations when combined with a knowledge base like ProcedureFlow, explore our integrations page.
Why is Agent Assist Important?
With the rise of self-service options, customers can handle most basic issues on their own, so when they do decide to call in, it's usually to solve complicated problems that require more than a quick knowledge base lookup.
This increase in complex calls is causing greater pressure on agents, with nearly two-thirds of customer care leaders reporting that their organizations are pushing capacity limits.
Contact centers must find effective ways to overcome these challenges, and automation tools like Agent Assist prove to be the optimal solution.
Just as an agent needs to feel confident in their role, the customer must have confidence in the agent. By delivering contextually relevant information to the agent in real-time, Agent Assist automates the tedious task of searching for solutions, assuring the customer that they're in capable hands.
Empowered by Agent Assist, agents can resolve issues faster and fully dedicate themselves to meeting customer needs. This results in greater contact center efficiency, lower operational costs and a better overall agent experience and customer experience.
But how exactly does Agent Assist benefit both agents and customers?
Let's explore the multitude of advantages it offers.
How does Agent Assist benefit agents?
Saves time
Agent Assist eliminates the need to manually search through the knowledge base to find solutions for customer problems.
As a result, agents can:
Handle more calls per day

Limit the time customers spend on hold

Reduce resolution time

Improve response time
Additionally, Agent Assist speeds up the onboarding process and accelerates time to proficiency by providing new agents with additional support.
By eliminating the need for time-consuming searches, it enables new agents to quickly grasp processes and feel confident in their role. It also frees up the valuable time of tenured agents, as they're no longer required to constantly support new hires during their ramp-up phase.
And as Agent Assist improves the quality and accuracy of interactions, customers won't need to call in for the same problem a second time.
Reduces effort
Agent Assist alleviates the stress often associated with the role of an agent, mitigating the risk of burnout. By taking on the responsibility of searching for information, it ensures that agents receive accurate information at the exact moment they need it.
As contextually relevant suggestions are delivered in real-time, agents can be sure that any information they are giving the customer is correct. This improves the accuracy of responses, eliminates repetitive questions, and takes the guesswork out of data retrieval.
And without the time-consuming effort of manually searching, agents are able to devote their full attention to engaging with customers, free from any distractions.
Bonus tip: By integrating Agent Assist with a visual knowledge base, agent effort is further reduced as it offers easy-to-follow visual guides rather than lengthy text-based processes.
Improves the agent experience
Agent Assist provides an enhanced level of expertise, acting as a dedicated coach that is always available to assist agents during customer interactions. This invaluable support is particularly useful during complex calls, where Agent Assist guides agents to the correct solution, giving them the confidence they need to succeed in their role.
When provided with instant, accurate answers, agents are able to internalize knowledge faster which increases their speed and accuracy in handling customer inquiries. This improves their productivity and performance, resulting in a positive feedback loop of continuous improvement.
Agent Assist takes the repetitive, low-value work out of the agent's hands and empowers them to take on a more active, problem-solving role. By removing tedious tasks from their responsibilities, agents are able to fully engage with their work, leading to increased motivation and job satisfaction.
When agents are equipped with the best solutions to automate their workload and seamlessly navigate customer interactions, they'll be more likely to stay at their job. And by increasing the efficiency of the contact center, it creates a positive work environment that benefits everyone in the organization.
How does Agent Assist benefit customers?
Quick and efficient problem resolution
It's vital that a customer's problem is solved during the first interaction.
Agent Assist prepares agents with precise solutions to customer issues even before the conversation begins. With this instant delivery of information, customers no longer need to endure unnecessary hold times or escalations. Eliminating such delays allows agents to promptly address customer needs without causing frustration or anger. The result is a positive customer experience and a higher likelihood of first-contact resolution.
As agents gain confidence in the information they provide, they become more capable of providing streamlined, comprehensive support for the customer. And with problems resolved much quicker, customers take notice as they leave the call satisfied with the service they received.
Personalized support
Customers expect personalized interactions that contain empathy and recognition toward their concerns.
With Agent Assist automating searches, agents are able to communicate more effectively and provide personalized support that is tailored to each unique customer inquiry. It enables them to fully dedicate themselves to engaging with customers and building strong relationships which foster trust toward the organization.
This heightened quality of care and support not only ensures that customers consistently have positive experiences but also results in increased satisfaction and loyalty.
Ultimately, the integration of automation and technology empowers agents to deliver exceptional service, leaving a lasting impression on customers and improving the overall customer experience.
Getting started with Agent Assist
Agent Assist is an essential AI tool for delivering exceptional customer service as it eliminates the effort of searching through crowded knowledge bases and empowers frontline agents with the right information, at the right time, every time.
To get the most out of Agent Assist and other automation tools, integrate them with a robust knowledge base like ProcedureFlow, which uses visual knowledge to guide agents through complex customer scenarios.
Take the next step toward transforming your contact center by harnessing the combined power of ProcedureFlow and Agent Assist—discover the possibilities on our API & integrations page today.