Blog
/
Automation
How AI is Transforming Contact Centers in 2023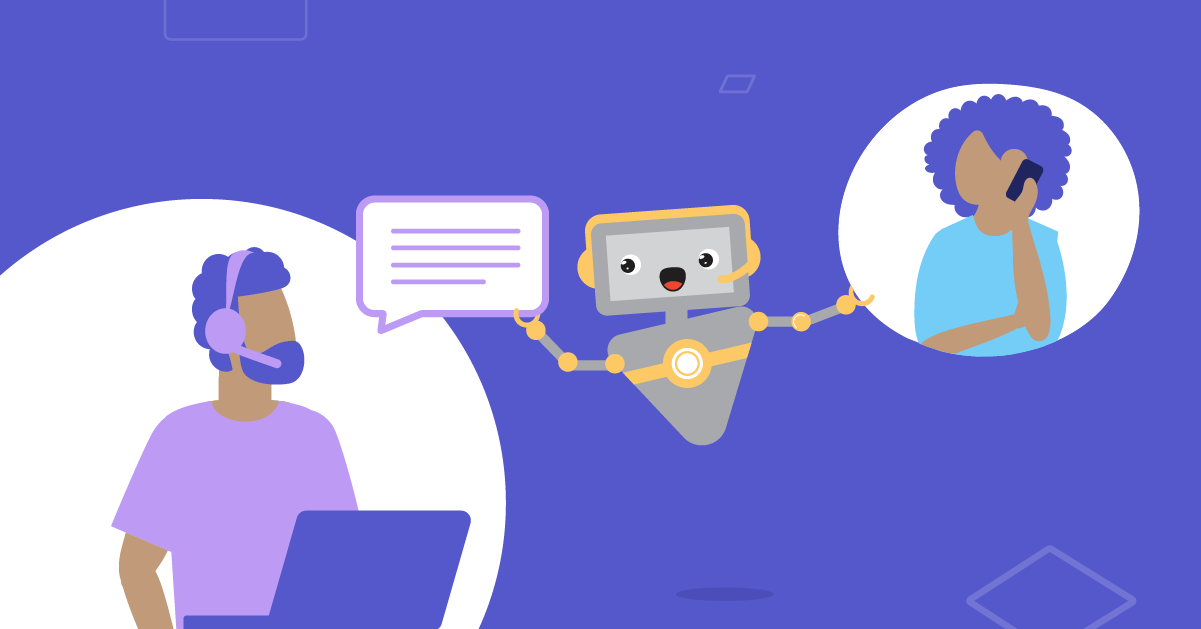 Artificial Intelligence (AI) is set to revolutionize the customer service industry by transforming the agent role in unprecedented ways. With the incredible impact of AI technology, it comes as no surprise that an overwhelming 91% of companies said they were increasing investments in data and AI.
Although AI is a powerful tool, it is not set to replace contact center agents from the realm of customer support but rather to improve agent workflows for optimal efficiency.
Every facet of contact center operations can experience improvement by implementing AI technology. Whether it's enhancing the agent onboarding process, identifying performance gaps, or streamlining tasks, the significance of AI is evident.
For businesses aiming to gain a competitive advantage, they must leverage the power of AI to transform their contact center operations.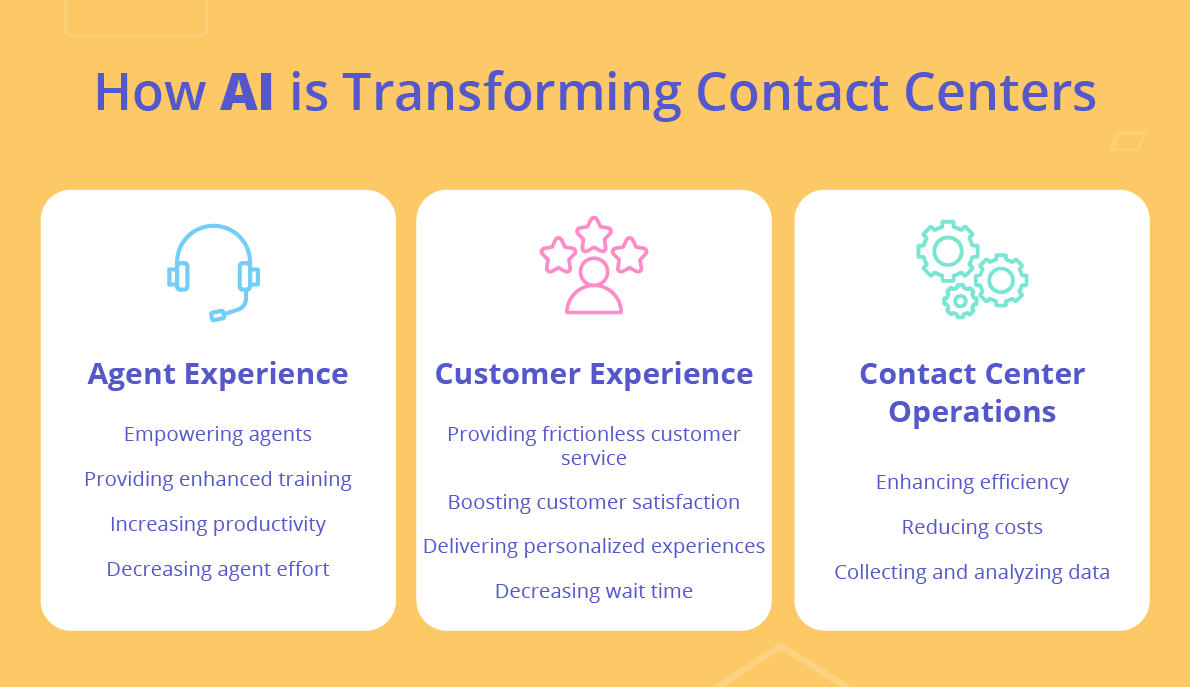 AI is improving the agent experience
Empowering agents
AI equips agents with the exact knowledge and information they need, at the moment they need it, to meaningfully engage with customers.
By quickly gathering crucial customer data and finding solutions to customer inquiries, AI instills agents with confidence to deliver optimal support. It can also be leveraged to remove backend work, eliminating unnecessary friction during interactions.
Furthermore, agents are able to focus on more complex scenarios by allowing customers to use self-service options for more common problems. This empowers agents during customer interactions by removing repetitive questions and creating a better experience for everyone involved.
Providing enhanced training
The training classroom benefits significantly from the inclusion of AI as it can generate a wide variety of customer contact scenarios. These simulations of real-world conversations serve as a powerful tool for agents to increase their skills and confidence when handling live calls.
Additionally, AI helps drive continuous improvement opportunities by finding performance gaps and providing valuable coaching recommendations.
Agents of any experience level can effectively leverage AI for training.
Not only useful for those going through the onboarding process, tenured agents also benefit from enhanced coaching to sharpen their skills and learn new processes. This added layer of support can significantly increase performance and reduce ramp time by providing real-time learning opportunities and providing valuable insights to elevate customer interactions.
Increasing productivity
With AI providing real-time insights, essential customer data, and performing post-call work, agents unlock a new level of operational efficiency. This leads to a significant increase in productivity as AI takes on the role of managing low-value, repetitive tasks, allowing agents to solely focus on the customer interaction.
Within an AI-driven, omnichannel contact center ecosystem, agents operate with enhanced efficiency as all channels interconnect, simplifying workflows and ensuring an exact understanding of the context of customer conversations. This unified agent experience allows agents to expedite issue resolution and achieve heightened accuracy in the process.
Decreasing agent effort
The majority of agents invest too much time and effort on low-value tasks such as searching through crowded knowledge bases and retrieving information about a customer's previous interaction history. AI technology can solve this pain point, with 60% of CX professionals stating that using AI has saved them time.
AI has the capacity to streamline repetitive tasks, such as providing agents with knowledge base recommendations. With this real-time guidance, agents find themselves better equipped to connect with customers as it eliminates the need to ask repetitive questions that can cause frustration for both sides involved.
AI is improving the customer experience
Providing frictionless customer service
A substantial 85% of customers expect consistent interactions across channels and departments, underscoring the demand for a seamless customer journey.
Utilizing AI functionalities such as call type recognition to appropriately direct customers to the relevant department, ensures customers encounter a frictionless experience. Additionally, the availability of self-service options empowers customers to handle basic issues on their own, allowing agents to concentrate their efforts on assisting customers with more complex queries.
Boosting customer satisfaction
Through AI, agents are equipped with the technology they need to perform optimally, allowing them to deliver the level of support that customers have come to expect. By enabling agents to effortlessly identify solutions to customer issues, AI positively contributes to customer satisfaction, leading to higher customer loyalty and retention.
By ensuring that customers' needs are being met and agents are meaningfully engaging with them during interactions, the inclusion of AI helps organizations build long-term relationships with their customers.
Delivering personalized experiences
Organizations must focus on personalizing customer interactions in order to foster meaningful interactions between agents and customers. This means being able to predict the reason for customer calls, enabling agents to provide optimal assistance.
AI plays a pivotal role in enabling organizations to personalize interactions by using real-time customer data to assess their needs, eliminate repetitive questions, and expedite access to the most suitable support option.
With a robust collection of customer history and identity data, agents are aptly equipped to personalize interactions and deliver empathetic responses by quickly recognizing and engaging with customers.
Decreasing wait time
Prolonged wait times have been an ongoing challenge for contact centers.
AI technology is able to solve this pain point in several ways.
By eliminating the need for agents to search through knowledge bases, customers can get solutions to their problems much faster. Furthermore, AI can use analytics to understand the root cause of extended wait times, enabling leaders to change their contact center strategies.
With AI chatbots readily accessible at all hours, customers benefit from immediate responses to their inquiries, effectively bypassing extended wait times for live agent assistance. This allows customers encountering complex issues to be directed to live agents much sooner. The availability of self-service also helps reduce average handling time (AHT), allowing agents to assist more customers per day.
AI is improving contact center operations
Enhancing efficiency
A significant portion of agents' time and effort is directed toward repetitive tasks, such as searching for answers, reviewing a customer's history, and seeking assistance. AI steps in to alleviate agents from these low-value tasks, effectively removing the operational inefficiencies that agents face on a daily basis.
With AI technology possessing the capability to assist customers autonomously, agents are free to focus on more complex customer scenarios that require a higher level of engagement beyond a straightforward solution.
Reducing costs
Since contact centers operate more efficiently when repetitive tasks are automated, it reduces the costs associated with low-value agent work. Additionally, as AI offers self-service options, it effectively controls contact center costs by affording agents additional time to address complex inquiries. This, in turn, results in fewer agents being continuously hired.
By enabling contact centers to secure a competitive edge, AI empowers organizations to attain heightened customer retention, ultimately increasing their profitability.
Collecting and analyzing data
Contact centers have frequently encountered challenges in providing agents with adequate customer data. AI emerges as a viable solution as it allows businesses to easily capture and distribute data from customer interactions.
Speech analytics can aid contact center leaders in gaining a deeper comprehension of customers through the transcription of every interaction. This enables organizations to uncover any points of friction along the customer journey and create necessary improvements by recognizing the root cause of customer dissatisfaction.
With AI analyzing customer data, contact centers can boost their performance metrics by gaining a better understanding of customer needs through close examination of customer behavior. This knowledge enables them to make informed decisions that would improve the way in which agents engage with customers.
Getting started with AI in your contact center
The incorporation of AI technology in the contact center yields benefits that touch everyone in the organization, from agents to customers to managers and leaders. Ultimately, the capabilities of AI-powered technology will enable businesses to deliver optimal customer service by providing agents with the insights to understand customer needs and provide quick and efficient support.
The early stages of AI technology are just a glimpse of what's to come as it continues to bring about transformative change within contact centers. Hence, investing in AI technology is paramount to ensuring a future of excellent customer service.
For more information on the capabilities of AI-powered technology when combined with a robust knowledge management system like ProcedureFlow, explore our integrations page.