Blog
/
Employee Experience
Agent Experience: The Ultimate Guide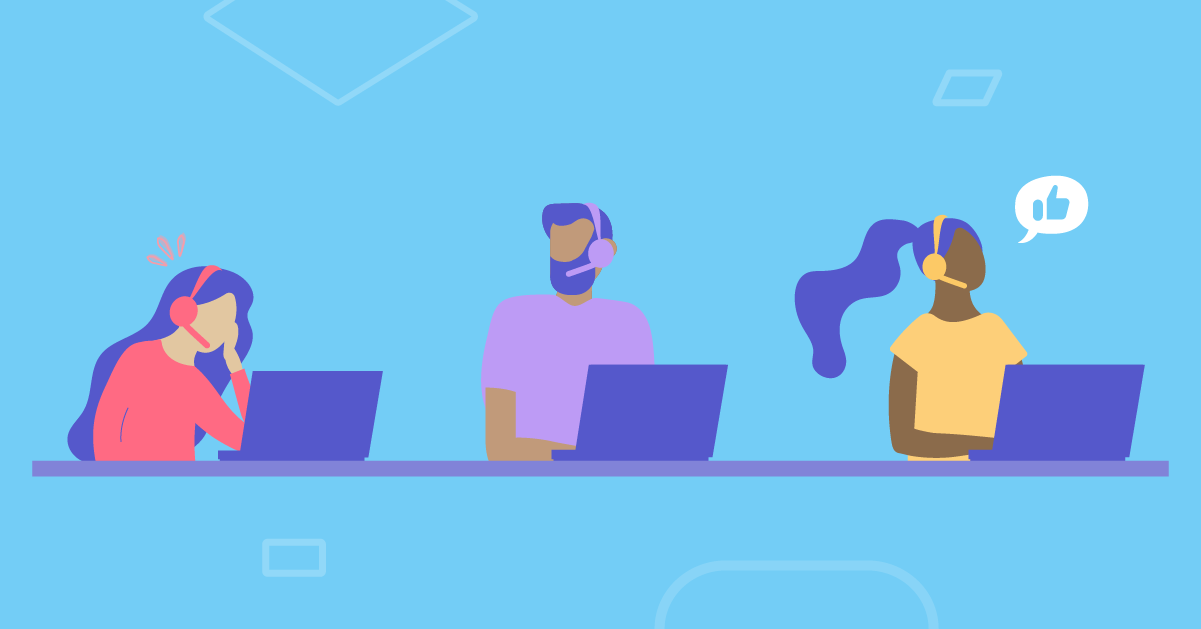 The agent experience continues to evolve and increase in complexity, making it one of the top challenges for contact center leaders in 2023.
Agents are impacted by rising customer expectations, complicated and inefficient workflows, and rapidly advancing technology. A surge in call volumes and the influx of challenging customer inquiries have exacerbated the pressure on agents who were already facing burnout.
Agent well-being in the workplace directly relates to customer satisfaction as they are the first point of contact when problems occur. To consistently deliver exceptional customer service, it is essential for contact centers to prioritize the agent experience.
What is Agent Experience?
Agent Experience encompasses how agents perceive the organization and their overall experience within the contact center. This involves every interaction between the organization and its employees, ranging from operational procedures and tools to their work environment.
Daily customer interactions, the ease of performing their job, and the support from managers and team members all contribute to the agent experience, as does their mental well-being in the workplace.
The importance of Agent Experience for business
Driving retention
Attrition has long been a persistent issue for contact centers, but the current situation is exceptionally challenging, with rates at an all-time high of 65% and, in some cases, surging to 80%. Faced with labor market hiring difficulties and economic uncertainties, contact centers are struggling to keep up. To retain more agents, the agent experience should be placed at the forefront since agents who are satisfied with their job are 2.5 times more likely to stay.
Boosting productivity
Business growth and success are dependent upon the productivity of its contact center. Increasing productivity and achieving operational efficiency hinges on agents working optimally while maintaining confidence in the quality of service they deliver to customers. This can be achieved by providing agents with essential tools and by cultivating a workplace that values their well-being.
Elevating performance
In today's competitive landscape, contact centers cannot afford subpar performance, especially when more than half of customers would abandon a business after just one unsatisfactory experience. To ensure customers receive the support they require, contact centers should focus on the development of their agents, as the majority of satisfied agents overperform on customer satisfaction scores (CSAT).
Accelerating proficiency
Factors such as insufficient training programs, inadequate tools and technology, and difficulty navigating highly complex processes can create significant hurdles for agents striving to reach proficiency. These challenges not only negatively impact the agent experience but also result in increased onboarding costs and a decline in the quality of service customers receive.
Increasing profit
When agents are ill-prepared for their roles, business suffers. This is especially true when taking into account that over 60% of customers sever ties with a company because of poor service. Hence, it's not surprising that companies that invest in the agent experience outperform their competition in average profits by more than 4 times. Additionally, unhappy agents are more likely to leave their positions, incurring substantial costs for businesses, which can range from $10,000 to $20,000 for each replacement.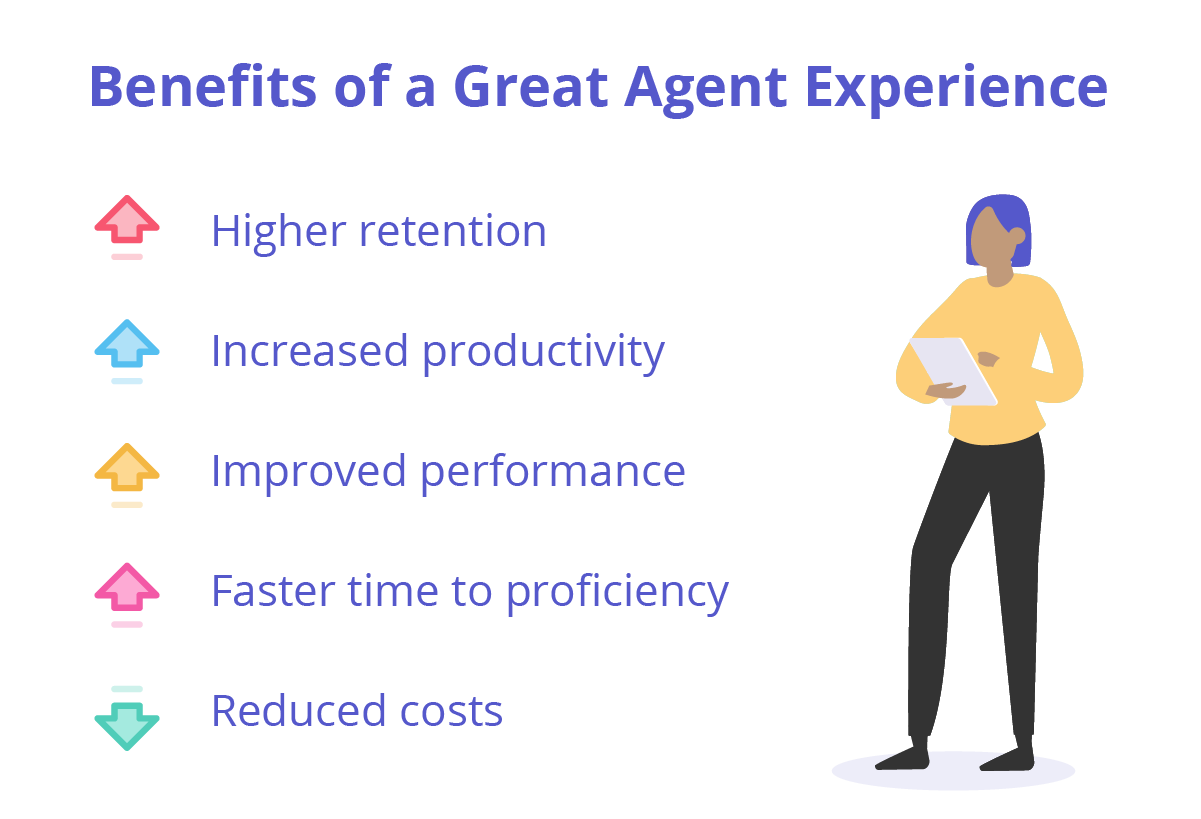 Reasons for poor Agent Experience
Ineffective technology
The impact of technology on an agent's job can either enhance their efficiency or create additional stress. Unfortunately, over 90% of contact centers require agents to navigate multiple systems and screens to assist customers, and a significant 71% of agents find themselves dedicating excessive time to searching for answers to customer inquiries.
This excess use of fragmented systems and the challenge of locating accurate information create substantial roadblocks in an agent's daily workflow, impeding efficiency and leading to errors and inconsistencies. This, in turn, can trigger customer hostility, intensifying the burden on agents and often resulting in their departure.
Lack of access to knowledge
The rising complexity of customer inquiries places agents in a difficult position, especially when essential process documentation is scattered across outdated text articles. The requirement to learn and retain fragmented information also adds to the stress during the onboarding process for new hires.
Inconsistencies in company knowledge pose a major challenge in agents' daily workflow. 74% of contact center leaders acknowledge that their current knowledge base is inadequate and requires too much effort to use, preventing agents from establishing positive relationships with customers.
Agent burnout
Various factors can contribute to agents experiencing mental fatigue and job-related stress. These include repetitive tasks that disrupt workflow, excessive effort directed toward low-value tasks, reduced levels of engagement, and inadequate support. The consequences of these challenges may manifest as frequent absenteeism, subpar performance, and an increase in customer complaints.
Contact centers characterized by a negative work environment, where agents experience demotivation and a lack of appreciation, can trigger burnout. Once agents reach this stage, they are 3.3 times more likely to leave the organization.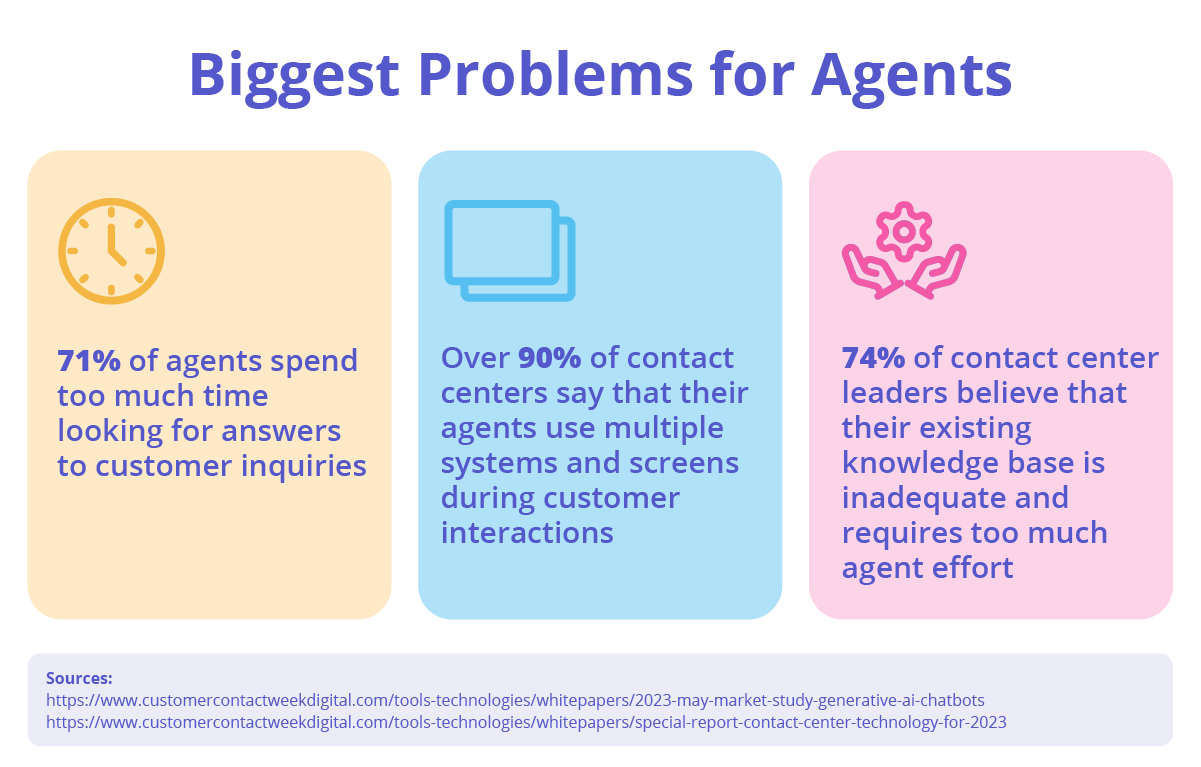 How to improve Agent Experience
Boost engagement
Agents who are engaged are more inclined to go above and beyond when helping customers. Their positive perception of the company may encourage them to recommend job opportunities to their friends, expanding the pool of potential applicants. And their colleagues will feel inspired to perform their best as well.
Contact centers should actively involve agents in company meetings, provide regular guidance, and encourage agents to participate. Organizations that fail to provide feedback risk disengaging their agents, in contrast to those that regularly incorporate agent feedback, resulting in turnover rates that are 14.9% lower.
Additionally, feedback should be gathered from agents through discussions or surveys and consequently applied to showcase the agents' value within the organization. This recognition increases engagement and promotes a culture of continuous improvement.
By maintaining open and consistent communication through regular updates, contact centers cultivate a heightened sense of engagement, as agents perceive a shared alignment of goals between themselves and the organization.
Increase motivation
Agents driven by a strong sense of motivation consistently excel in their roles. This emphasizes the importance of recognizing agent effort, especially considering that more than two thirds of employees state that they would increase their level of effort if they felt their contributions were being valued.
Contact centers can cultivate a positive work environment that increases motivation and morale through genuine recognition of exceptional performance. This approach builds confidence, trust, and respect among agents while increasing their dedication to the organization. It's important to note, however, that quality should never be compromised for the sake of quantity. While soft skills may not be easily trackable metrics, they should be considered simultaneously with quantifiable KPIs.
Contact centers can further motivate their agents by offering career advancement opportunities, recognizing that job security and advancement opportunities rank as the two most important factors for agent retention. Organizations should make an effort to understand agents' individual goals and establish a development plan. Additionally, they can elevate agents' skills by providing training and learning opportunities, then commit to their professional development by promoting from within.
Reduce agent effort with optimal technology
When agents face an excessive number of hurdles in assisting customers, it contributes to a negative agent experience. Inefficient technology that demands substantial time and effort for tedious, repetitive tasks, such as manual processes, time-consuming searches, and the constant need to switch between applications, can lead to agent disengagement and the possibility of them departing from their roles.
To address and eliminate these inefficiencies, agents should be equipped with optimal contact center technology, including a robust knowledge base for simplifying complex processes and automation tools for streamlining workflow. By reducing the time and effort agents dedicate to outdated technology or fragmented systems, they can accelerate their proficiency, resulting in increased performance and productivity.
Note: See below for more information on optimal contact center technology.
Optimize the onboarding process
The onboarding process for new hires, encompassing the company's procedures, technology, objectives, and culture, must start strong.
It should cover the skills, knowledge, and processes that new hires are expected to become proficient in. Additionally, it should be tailored to diverse learning styles and individual needs and incorporate a combination of classroom-based and personalized one-on-one training and coaching sessions. Agents must receive clear objectives and expectations, along with a meaningful explanation of their role in contributing to the company's vision and objectives.
To ensure that agents are engaged from day one, contact centers can offer interactive learning opportunities such as scenario-based learning. This hands-on approach immerses agents in real-life scenarios, giving them a firsthand experience of their roles. Scenario-based learning accelerates training by actively engaging new hires in the learning process, instilling in them the confidence to seamlessly transition into production and ensuring that they are thoroughly prepared to tackle the challenges of the job.
Offer flexibility
To address agents' needs, contact centers should provide flexibility within the role. This involves empowering agents with the freedom to choose the working conditions that best align with their individual requirements, including their choice of work location, shifts, and hours.
Shift work has been a longstanding practice in contact centers, emphasizing the importance of allowing agents to choose their preferred shifts. Given the increasing number of agents who prefer remote work, most contact center leaders consider work from home options as essential. In addition to remote work, in-office and hybrid options should be offered for agents who prefer these alternatives. Granting agents the flexibility to align their work arrangements with their preferences fosters a sense of autonomy and empowerment.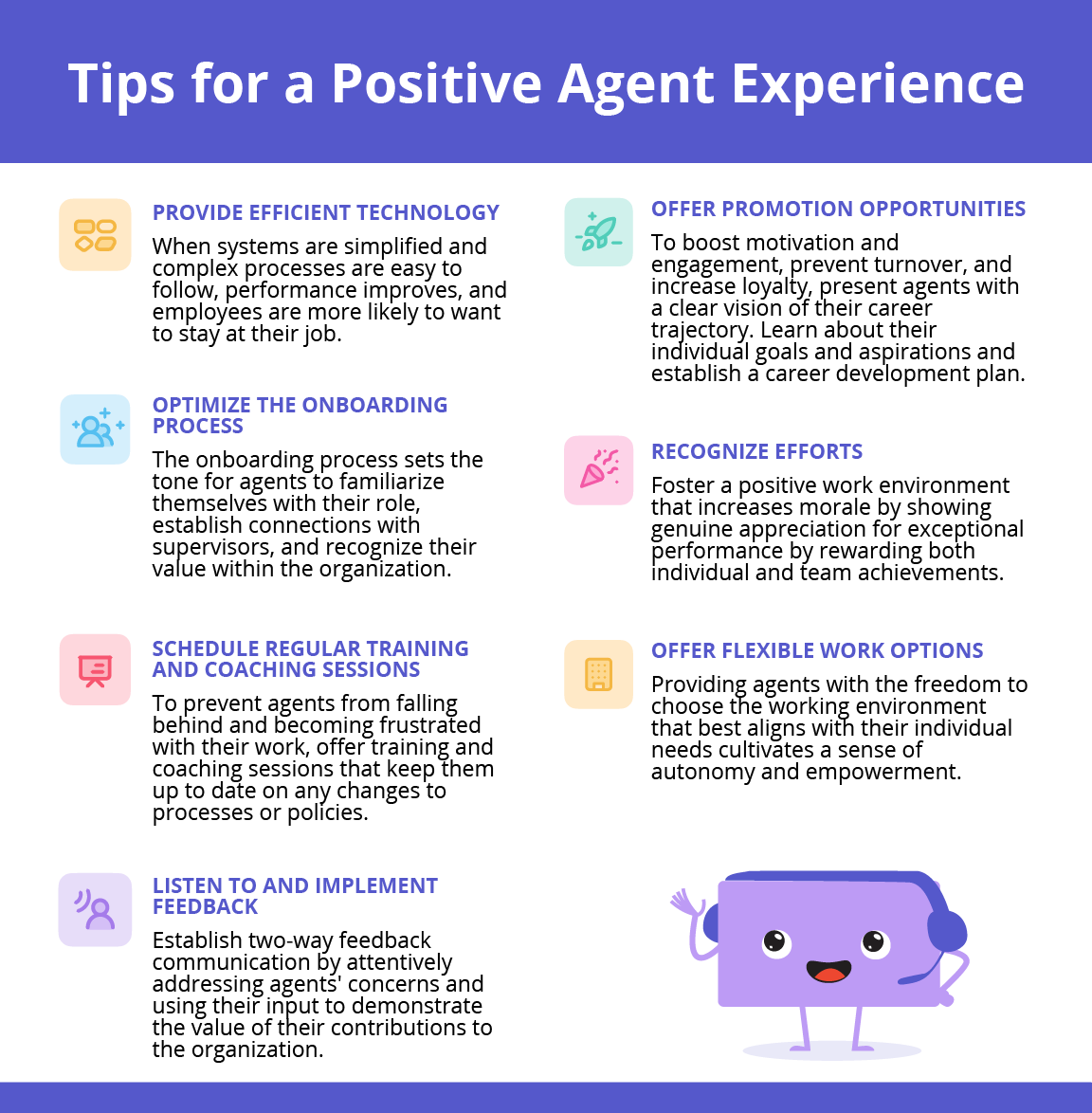 Optimal Agent Experience technology
Knowledge management system
A knowledge management system centralizes process documentation into a single source of truth, empowering agents to access information precisely when they need it.
The ideal knowledge base should be cloud-based, featuring an intuitive navigation system and employing visual processes to transform lengthy text-based documents into logical guides.
These essential features enable agents to effortlessly locate accurate information from day one, eliminating memorization and guesswork, as well as the hassle of searching through multiple documents. This expedites the learning process and enhances the retention of essential processes. As agents are able to execute processes step by step, their performance and productivity increase, instilling in them a heightened sense of confidence and job satisfaction.
Establishing consistency across the organization ensures that, regardless of the specific issue a customer encounters, an agent of any proficiency level can deliver a consistent standard of service.
Automation and AI
Contact centers have increasingly adopted automation and artificial intelligence (AI) to perform manual tasks and alleviate agents from the burden of repetitive, low-value work. Common types of automation currently utilized in contact centers include robotic process automation (RPA), conversation guidance, and machine learning.
Automation improves the way in which agents handle customer interactions by quickly identifying customer needs and delivering timely, accurate solutions. This empowers agents to operate with heightened efficiency and provide optimal support. As agents excel in their roles, their performance improves, and with it, their engagement and confidence.
The implementation of automation to minimize or eliminate low-value tasks has the dual benefit of reducing agent effort and enabling agents to engage in more complex customer interactions. As they assume a more analytical role, agents become more aware of their influence on the customer experience, leading to heightened motivation to excel in their roles.
Data analytics
For agents to offer effective assistance to customers, they must have access to a considerable amount of customer data. This includes their previous interaction history, personal information, and other relevant details regarding their engagements with the brand.
Contact centers should use analytics tools to collect data from various sources, such as transcripts, CRM software, and customer surveys. This data should be easily captured and distributed. Organizations can subsequently uncover any points of friction along the customer journey and implement necessary improvements by identifying the root cause of customer dissatisfaction.
As organizations improve the ways in which agents engage with customers, agents experience a more streamlined workflow, leading to enhanced performance as they gain a deeper understanding of how to effectively assist customers.
Make Agent Experience a top priority
Agents are at the frontline of business operations. They are the primary point of contact for customers on a daily basis. Therefore, contact centers should emphasize the enhancement of the agent experience as a fundamental step in providing outstanding customer service.
Through the strategic implementation of technology, training programs, clear communication, and strong support systems, contact centers can improve agent experience and thereby retain an engaged workforce that consistently meets customer needs at every touchpoint.