Blog
/
Employee Experience
Top 10 Tips to Boost Call Center Agent Motivation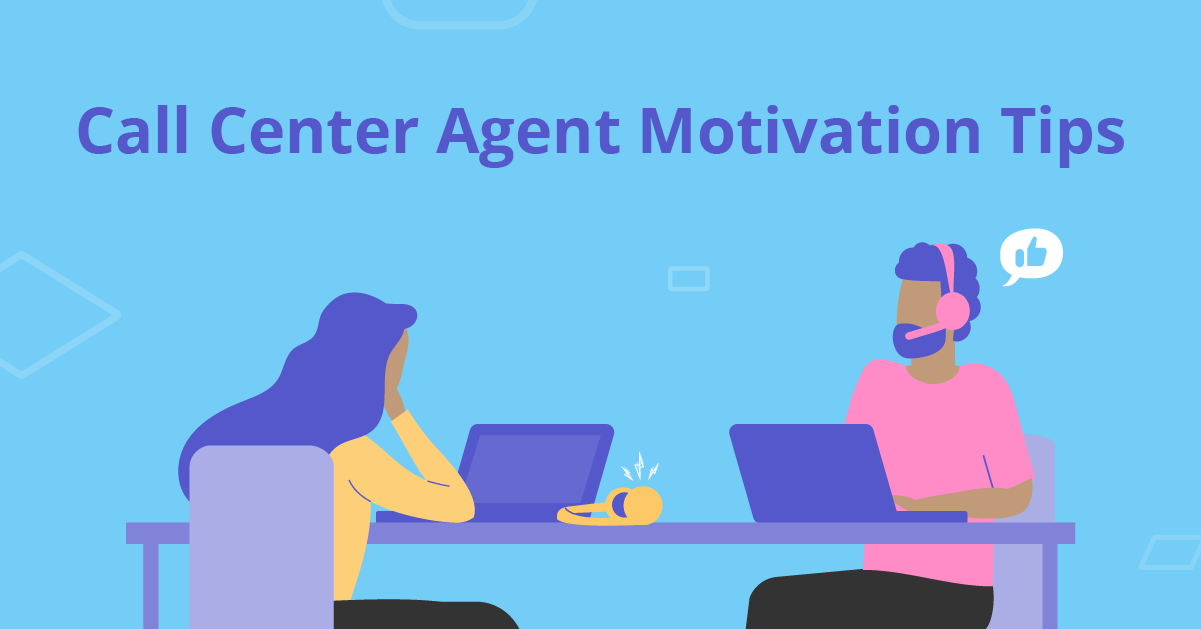 Working as a call center agent can be extremely challenging—especially when faced with a lack of motivation.
For call center leaders that aspire to increase productivity and deliver exceptional customer experiences, it is crucial to create a work environment that provides the necessary support to motivate agents.
Employee engagement and motivation are closely intertwined, as agents who are fully engaged with their work are driven by a strong sense of motivation, enabling them to consistently perform their best. They're also 4 times more likely to stay at their job and 3.3 times more likely to feel empowered to resolve customer issues.
As calls become increasingly more complex and call volumes continue to rise, it's now more important than ever to proactively dedicate resources and effort toward increasing agent motivation.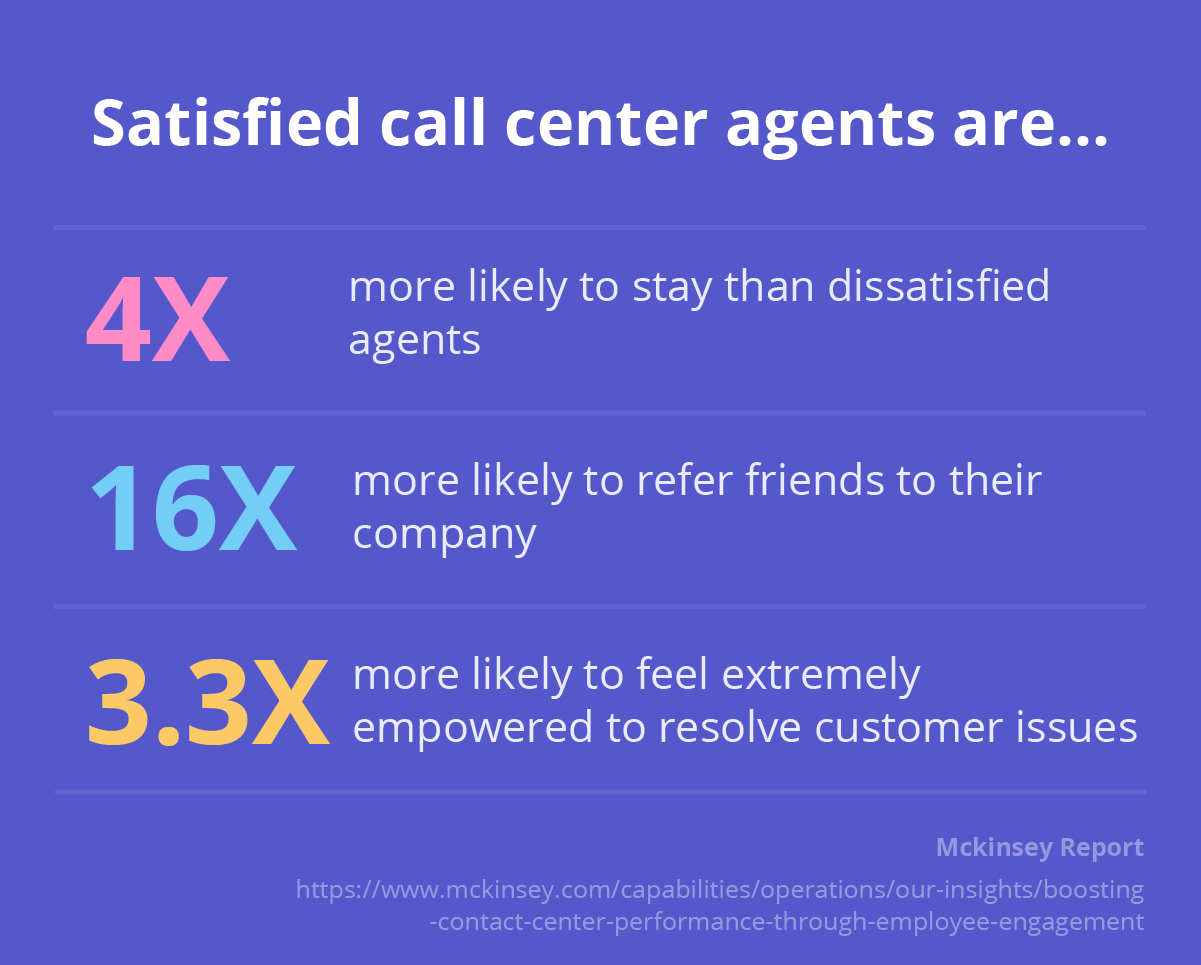 Tips to motivate call center agents
Below are the most effective strategies that call center leaders can implement to motivate agents and cultivate a productive workforce that is both engaged and satisfied with their work.
1. Reduce agent effort with the best technology
The tools and technology that agents use on a daily basis should increase efficiency and facilitate workload. To alleviate any unnecessary stress, replace outdated technology with highly intuitive, cloud-based software that's accessible for the entire team.
Implement a knowledge management system—A visual knowledge base makes it easier for agents to understand and consume information by simplifying complex processes. With easy navigation and a single source of truth, agents are able to quickly and efficiently assist customers.
Automate repetitive tasks—To prevent burnout caused by tedious work, leverage AI and automation tools to streamline workflow. By automating tasks such as information retrieval and customer data input, agents are freed to engage more meaningfully with customers.
Eliminate fragmented systems—Constant task switching hinders productivity and performance. To help agents maintain consistency and accuracy during customer interactions, systems should be seamlessly integrated to live within a unified agent desktop.
When call center agents are provided with optimal technology, they are empowered to concentrate their efforts on what they excel at—delivering exceptional customer service.
2. Set clear, attainable goals from day one
Setting realistic goals that agents can confidently achieve within a specific timeframe can serve as a powerful motivator.
Ensure that goals are easily measurable and can be logically tracked for progress. Provide every agent with a clear understanding of what is expected of them to promote a sense of accountability and purpose within the call center.
Motivate agents to reach their goals by sharing their performance metrics and engaging in discussions about the results. Celebrate areas where they excel and maintain transparency regarding areas that have room for improvement.
Then, provide additional coaching and learning opportunities to empower agents to enhance their skills and further motivate them to perform their best.
3. Recognize both quantity and quality
While performance metrics are undoubtedly crucial for any call center, it is equally important to recognize the significance of soft skills such as empathy and communication.
Quality should never be sacrificed for quantity. While soft skills may not be easily trackable metrics, they should be balanced alongside quantifiable KPIs.
For example, an agent who achieves an excellent AHT (Average Handle Time) may accomplish this by rushing through calls, resulting in a negative impact on the customer experience (CX). For this reason, agents should be made aware that delivering outstanding customer service is their top priority.
Remember that KPIs only provide a partial view of agent performance. Call centers that solely focus on metrics without observing the quality of customer interactions should reconsider their approach to tracking agent performance and adjust as needed.
4. Foster open communication
Building positive relationships among employees within an organization creates a work environment that everyone is motivated to participate in.
When call center leaders actively cultivate a culture of open communication with their agents, it establishes a foundation of trust, increases engagement, and facilitates prompt resolution of conflicts.
Ensure that agents are never left confused or uncertain about the next steps in their role. Be transparent by clearly communicating how their contributions drive success for the company. Openly share why certain decisions are made and explain the impact of those decisions to motivate and empower them to align their efforts with organizational goals.
Bonus tip: Develop a change management plan that can be readily launched when needed to effectively prepare and support agents through any changes that occur within the organization.
5. Listen to feedback
Agents are on the front lines, interacting with customers on a daily basis. They are the experts capable of drastically improving call center operations.
By incorporating regular feedback sessions, call center leaders provide agents with the opportunity to contribute their insights while demonstrating appreciation and respect for their role within the organization. It empowers agents to express any concerns they may have and helps prevent miscommunication among team members.
Agents that feel heard by their leaders are motivated to excel in their work. By implementing their suggestions, leaders affirm agents' capability to drive meaningful change within the organization and the lives of customers.
6. Optimize the onboarding process
Starting a new role can be a stressful experience, especially in the customer service industry. Ensure new hires feel at ease by providing them with the tools and resources they need to succeed from the very first day.
Support agents during onboarding with regular training, coaching, and feedback sessions. And remember to encourage them to contribute feedback as well.
Accelerating the onboarding process for new agents and empowering them to attain full proficiency is key to cultivating a sense of confidence in the assistance they are providing to customers. Agent motivation increases with a belief in their ability to excel.
A well-structured and efficient onboarding process gives agents a positive outlook on the company, inspires them to refer their friends, and encourages them to remain long-term.
7. Never stop training and coaching
Training shouldn't end when agents begin taking live calls.
To prevent agents from falling behind and becoming frustrated with their work, offer regular training and coaching sessions that keep them up to date on any changes to processes or policies. Personalize these sessions to the individual needs of the agents to encourage further engagement.
Training tools, such as scenario-based learning, are proven to accelerate agent proficiency. However, their value extends beyond the initial training program, and they should be used as an ongoing resource, such as when introducing new updates or implementing companywide changes.
Agents are motivated when they can continuously improve and progress in their roles. Learning new skills while reinforcing existing ones helps set agents up for success, regardless of their level of expertise.
8. Offer in-person and remote work opportunities
Providing agents with the freedom to choose the working environment that best aligns with their individual needs cultivates a sense of autonomy and empowerment. And with a growing number of agents preferring to work from home, most contact center leaders now agree that permanent WFH options are necessary.
Agents working remotely require the same level of guidance and support as those who work in-office. Adjust to the needs of both by ensuring that remote agents receive an equal amount of training and feedback as their in-house colleagues.
Confirm that technology is optimized for remote work. Cloud-based technology is essential for remote agents as it keeps everyone connected and able to communicate in real-time, regardless of their location.
Keep agents engaged on both ends by providing virtual team-building activities such as scheduled team lunches or happy hours.
9. Provide rewards and incentives for excellent work
Foster a positive work environment that increases motivation and morale by showing genuine appreciation for exceptional performance.
A great way to accomplish this is by recognizing and rewarding both individual and team achievements. These can include a diverse range of rewards, both big and small, and encompassing financial and non-financial incentives.
Here are a few ideas to get started:
Financial: Gift certificates, team lunches, yearly bonuses.
Non-financial: Social media shout-outs, companywide celebrations, first choice on shift hours or vacation days.
To further inspire agents and celebrate their achievements, establish a reward program that allows them to accumulate points and redeem prizes.
Prioritize the recognition of agents' hard work to ensure that they feel valued for their significant contributions. This builds confidence, trust, and respect among agents and increases their commitment to the organization.
10. Create opportunities for career growth with upskilling
The two most important agent retention factors are job security and promotion opportunities.
The majority of agents want to advance in their careers and need to be given room for professional development and growth within the organization. Otherwise, they are likely to seek new employment, potentially moving on to working for the competition.
To boost motivation and engagement, prevent turnover, and increase loyalty, present agents with a clear vision of their career trajectory. Learn about their individual goals and aspirations and establish a career development plan.
Invest in upskilling by offering training and learning opportunities, such as additional courses or workshops. By prioritizing a culture of continuous improvement, agents will be sufficiently prepared for when the next opportunity to advance arises. Then, demonstrate the organization's commitment to their professional development by actively promoting from within.
The pursuit of a goal is a powerful source of motivation. Additionally, expanding one's skillset makes for an incredibly productive and valuable employee.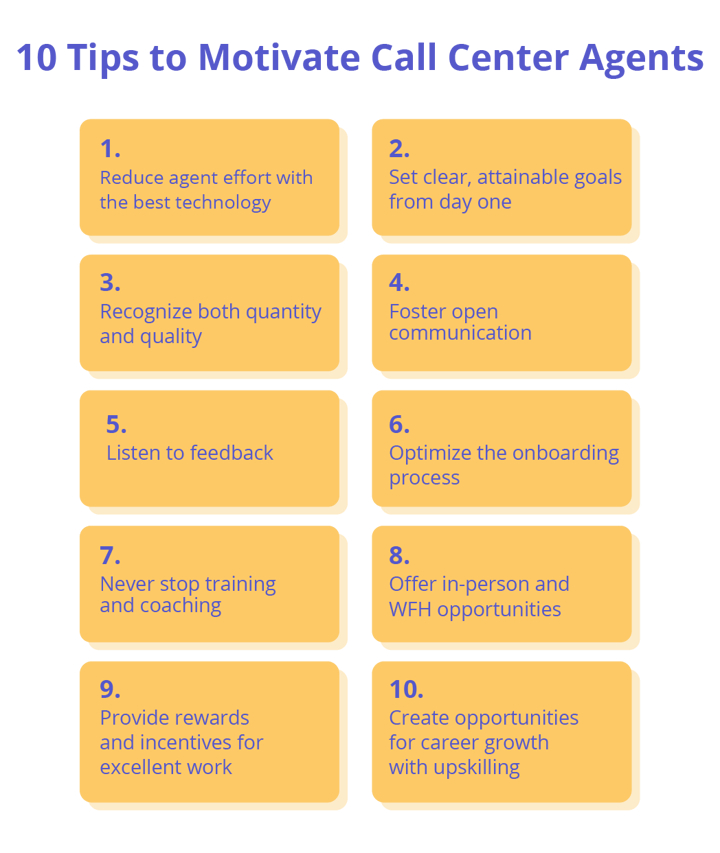 Motivated agents are the key to call center success
Identifying the areas where your call center may be lacking and implementing these valuable tips will showcase the results that a positive work environment brings for the entire team.
The equation is simple—happy agents equal happy customers.
By prioritizing agent motivation, call center leaders can create a highly productive workforce that increases customer retention, satisfaction, and ultimately, the organization's bottom line.