Blog
/
Employee Experience
Optimize your contact center by investing in your training strategy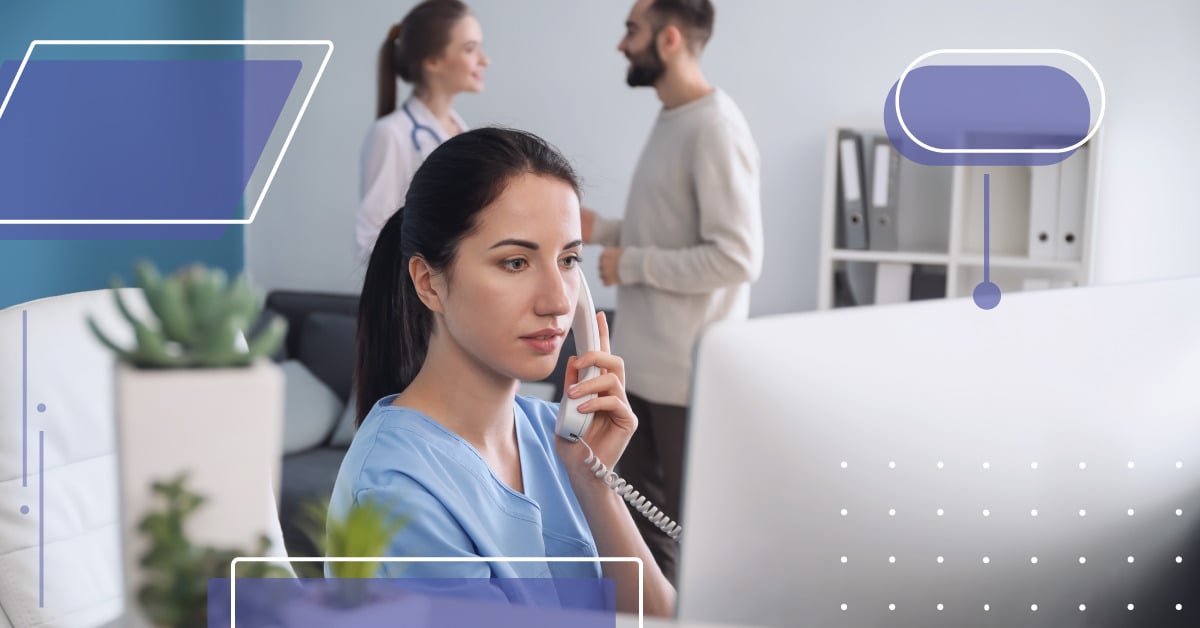 Just like every company, Heartland Dental strives to provide their best possible customer service. A dental support organization, Heartland caters to a large market of dental professionals, aiding and supporting in the areas of administration, resources, networking, leadership, and more.
As one can imagine, Heartland's support line receives hundreds of varying call types, requiring agents to be professional, confident, and knowledgeable on a large range of topics. We got the inside scoop from Diana Borries, Training and Development Office for Heartland Dental, on how they manage to keep their contact center optimized by improving their training program.
Why is it important to prioritize your training strategy?
Unfortunately, contact centers are known for having an infamously high employee turnover rate. On average, contact centers see an employee turnover rate of approximately 30%-40%, when the national average is around 12%-15%.
It's difficult to keep corporate consistency with employees coming and going. Having a strong training strategy means that quality, customer satisfaction, and success won't decrease when your workforce does. It also means those new hires are reaching proficiency faster, and remaining successful and confident after their training ends.
What to consider when thinking about optimizing your training program?
Attrition: Employee churn is inevitable but being prepared to handle attrition is something your organization can control. When high performing agents leave, they take expert knowledge with them. New hires struggle to adapt to what feels like an overwhelming amount of knowledge and processes that they need to grasp.
Scalable Growth: As an organization expands, maintaining processes and employee retention becomes increasingly important. Hiring new agents isn't enough, if the processes they're being trained with are out of date.
Call diversity: There are so many variations of calls, with questions, comments, and concerns from customers. It seems unlikely for one single agent to become a master of all call types.
Remote working environments: it's the age of remote work, and working from home is still difficult to master. Without the convenience of having coworkers beside you and physical nesting periods, new (and tenured) employees often encounter new hurdles. Gone are the days of co-worker collaboration, as employees are working from their home offices. Taps on the shoulder to desk neighbours for questions about a call are now physically impossible.
In the journey to optimization and success, Heartland decided to develop a strategy surrounding three major pillars; people, process, and technology.
People
Hiring the right people is a key part of the puzzle for the success of any organization. Heartland adopted Patrick Lencioni's "hungry, humble, and smart" framework, and tailored their hiring interview questions to reflect it.
When it comes to hiring for "hungry", Borries says they look for "people that want to grow in the company and are excited about their work. They're always looking for the next thing."
They also look for employees who drive results, but maintain a confident, humble approach. Finally, they emphasize the importance of emotional intelligence. Their team is full of smart individuals with empathy, who work well with others, and truly care about helping out their customers.
Once onboarded, employees are kept in the loop by receiving periodic assessments throughout the nesting period. Not only does this technique help to ensure the training is properly tailored to the areas that need the most focus, but also serves as a personal check in for the agent.
Process
What sets Heartland's training program apart is the implementation of "single skills training strategy". By training groups of new hires by specific skill, they were able to get agents on the phones faster. Confidence skyrockets when a newly onboarded agent feels like they are good at the calls they're receiving, and results in higher first call resolutions and satisfied customers. After nesting, agents can be brought back for training on other skills as needed.
Borries points out that they also make an effort to seek feedback on their processes, from those that actually use them. This ensures that their processes are evergreen, up-to-date, and relevant to the employees who rely on them.
Technology
Last, but certainly not least, is the technology your organization uses. Often times, managers make the mistake of investing in a tech stack they think agents will use, not one that the users themselves actually find helpful.
Find out what agents actually need from their technology. Talk to your agents to find out what gaps they're experiencing and invest in a solution that makes a difference. For example, often times access to information and finding the answers they need when they need them, is a huge issue for many agents; easily solved by investing in the proper knowledge management solution.
A good investment is a tech solution that supports all aspects of your training program: your people, customers, and processes.
Conclusion
There's a reason Heartland Dental went with ProcedureFlow for their solution. ProcedureFlow helped them develop a people, process, and technology focus that created an optimal contact center environment. Heartland was able to get their agents on the phones faster and see continued success post-training.
Learn how ProcedureFlow can help your organization optimize their training strategy today by speaking with one of our experts.