Blog
/
Knowledge Management
Procedural Knowledge Management: What It Is and How ProcedureFlow Can Help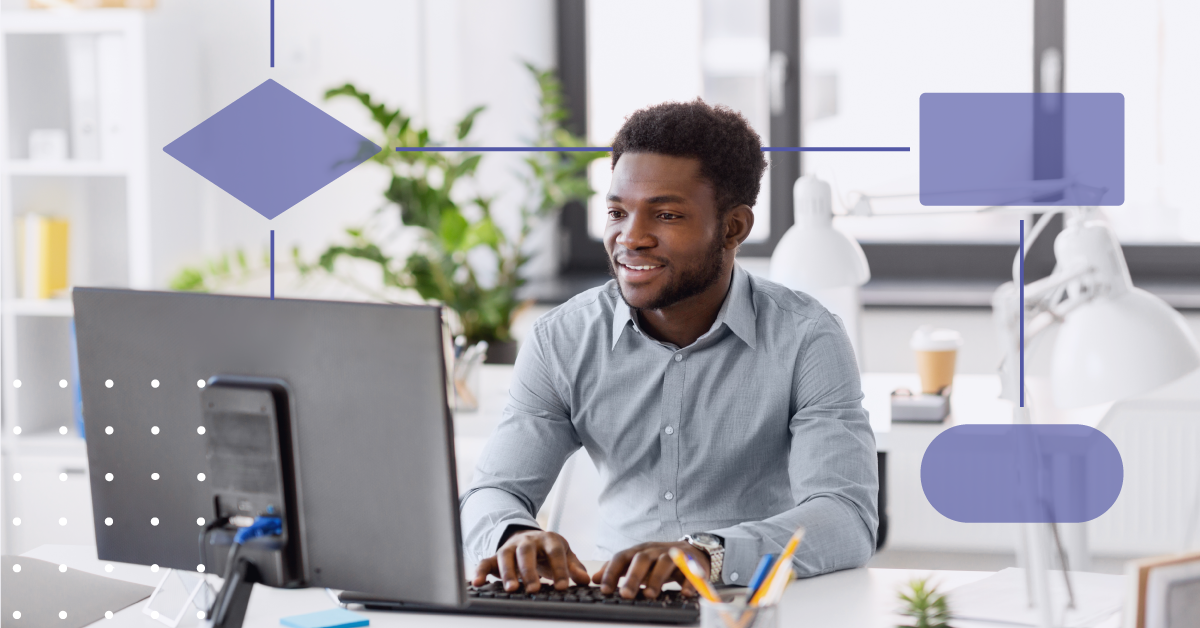 Imagine sitting down at a messy desk to work on a slide deck. With distractions all around, your head struggles to stay focused. Before getting started with your work, you end up spending valuable time cleaning up the space around you. A cluttered space leads to a cluttered mind. With an organized desk, you're finally able to be productive and focus on the tasks at hand.
Knowledge management for your organization works the same way. A cluttered, decentralized knowledge base leads to inefficiencies across the company. Investing in a well-structured knowledge base is like organizing your thoughts and cleaning your desk: all your knowledge is centralized, efficient, and ready to be used.
What is procedural knowledge management?
Every organization has process knowledge: it's the brains of the company, and each of those processes has within them procedures that make them work. It could be a housed in collection of how-to manuals and binders, stored in the minds of your tenured employees, or living in a document management system. No matter the format, procedural knowledge gets shared up, down, and sideways in your organization. Knowledge Management (KM) is the practice of gathering, structuring, and sharing the company's knowledge. Together, they form what is called procedural knowledge management.
Why should you consider a Procedural Knowledge Management system?
Properly managing procedural knowledge may not be the most exciting topic of conversation, but it is integral to achieving operational efficiency within an organization. Here are some of the challenges companies can experience when their procedural knowledge isn't correctly managed and optimized.
Hard to find knowledge articles:
"The process for this is over here, and the how-to for that is over there." Sound familiar? Traditional knowledge bases usually result in a little bit of information scattered all over the place, often making it hard to efficiently follow a process to the end.
Text-heavy knowledge articles that are difficult to navigate and consume:
Trying to find information on the phone while handling a customer is hard enough, let alone trying to skim through large walls of text to find the specific step you need.
Outdated and duplicated information in your knowledge base:
Keeping procedures up to date is a full-time job. It's a challenging task, and valuable user feedback from the employees themselves is often overlooked. This leads to old, inaccurate information being used by employees. In many cases it also means multiple versions of the same procedure, saved in different places, approved by different people. In other words: a case of version-it is.
What makes ProcedureFlow the ideal procedural knowledge management software for your business?
ProcedureFlow makes managing your procedural knowledge easy and effective across your organization. The platform takes your complex processes and turns them into a set of simple, consumable actions that guide your employees.
By creating an easy-to-follow roadmap, ProcedureFlow eliminates process errors and helps boost employee confidence.
Here are some of the things that set ProcedureFlow apart:
Improve employee proficiency from day one.
In the contact center space, training and onboarding time is known for being a lengthy process.
On average, most employees take approximately 12 months to be fully ramped up, trained, and proficient on all aspects of their job. By using step-by-step visual guides with real-life scenarios, this training time can be reduced by as much as 70%.
Provide a positive employee experience.
Picture your newest hires working with the knowledge of your highest performers. ProcedureFlow's digitization of your processes allows for empowerment of your entire workforce. It's a guidebook that supports your employees every step of the way; from transitioning into the role, to the day-to-day tasks of a seasoned employee. Confidence on the floor is improved, as agents know they have the tools they need to be successful.
Create a culture of continuous improvement.
Upkeep is effortless and easy, as everyone can provide feedback with crowdsourcing. Managers are given a better understanding of how processes are being implemented and utilized. Updating processes are no longer a dreaded task, and continuous improvement becomes ingrained in company culture.
Conclusion
Ensuring your companies procedural knowledge is properly managed can have a significant impact on business outcomes. ProcedureFlow makes this easier than ever, and is the ideal solution for organizations looking to improve operational efficiency. See it in action. Book a demo today.