Blog
/
Employee Experience
8 Useful Tips on Coaching for Customer Service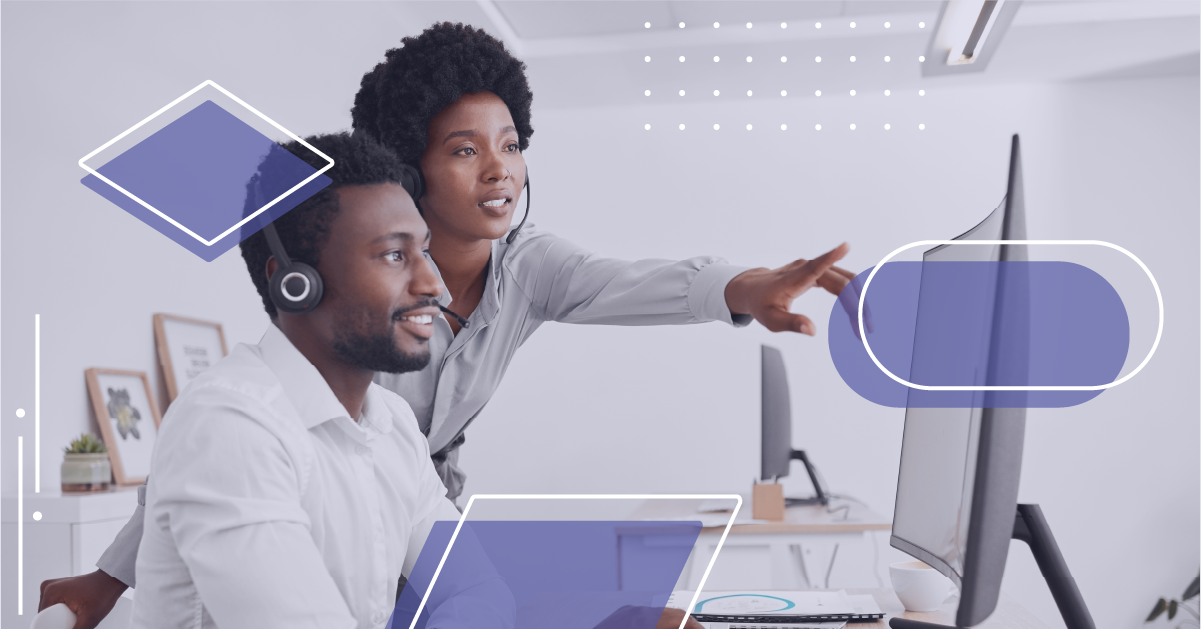 Everyone working at the top of their game, whether it's the CEO of a corporation, the head of a non-profit, or a professional athlete, has one thing in common: they work with a coach. Take a page from their playbook and create a strategy of coaching for customer service in your organization. Not only will customer service coaching improve proficiency in your organization, but it will also keep them focused on achieving excellence.
What is customer service coaching?
Coaching is different from training, although they're obviously related. All new hires go through a training period that has a definite start and end date. Training typically puts several people with one or two trainers. Coaching is one-on-one and continuous.
Customer service coaching is typically led by a QA analyst, a CX manager, or the customer service supervisor. In addition to honing skills, coaching helps to maintain the agent's attention on—and execution of—best practices when dealing with customers. Like a football player watching a video of a game to figure out how they gave up the ball, customer service coaching isn't only about the moment of surrender. It considers all the steps that lead to it—where the play went right or wrong—and builds on the parts that went right.
Coaching used to involve leaning over the shoulder of a call center agent or meeting them in a physical location. Remote work has all but rendered the in-person coach extinct.
Why is customer service coaching important?
Every customer interaction offers the opportunity to be a bit of a superhero in that person's day. When we solve a problem and scratch an item off the customer's To-Do list, we're Wonder Woman or Superman for a moment. Truth, justice, and eliminating the need to call back!
The importance and cost-savings of keeping customers happy are well known. Improved First Call Resolution (FCR) leads to an improved Customer Satisfaction (CSAT) score which results in higher customer retention. But what about turning customers into brand fans? Priceless! A client who has brand loyalty is your company's best supporter. Customer service superstars create brand advocates by treating them with consistent excellence. Coaching for customer service helps bring agents to the peak of their performance level—and helps keep them there.
What are the benefits of coaching for customer service?
Customer service is that special something that sets high-performing organizations apart from the rest of the pack. It's a competitive advantage that everyone wants, but not all attain.
We can't overstate the value of customer retention. Happy customers speak well of their experience and others pay attention.
There are internal benefits to coaching that also affect budgets and team morale. According to Indeed.com, happier employees who feel they're making a difference are more likely to remain loyal to the company. Coaching can slow employee turnover. Team members share their knowledge and gain improved skills, which gives them confidence. A culture where everyone is striving for excellence creates a sense of team spirit.
What is real-time coaching and how does it work?
If an NFL coach could be on the field while a big play is underway, directing the quarterback away from where he's certain to get sacked – that's real-time coaching. Real-time customer service coaching is similar; however, a helmet is optional.
In real-time coaching, the coach "sits in" on a live call and offers guidance to the agent. Using ProcedureFlow as a coaching and training tool, helps make the practice even easier. With the help of this software tool, agents simply follow the flow and are guided through the processes. ProcedureFlow provides a single source of truth that all agents and coaches can access at any time, whether they're under the same roof or working remotely.
The top 8 tips on coaching for customer service
Set an agenda: Some employees experience a full-body shiver at the thought of a one-on-one with anyone, let alone someone who's going to discuss their job performance. Make the intention of coaching crystal clear. The goal is to improve customer relations across the entire team. It's not personal, and no one's being singled out or needs to feel threatened. Keep it focused on the topics.
Create a schedule: Regular coaching sessions are key, whether they're done weekly, annually, or somewhere in between. A predictable routine can alleviate stress and help solidify expectations.
Make it a two-way street: Ask the employee to come with their own questions or concerns about customer service. Create a judgment- and defensiveness-free zone where all issues can be addressed. It isn't about finding fault; it's about discovering ways forward that improve the customer experience.
Explain "why.": Because I Said So School of Management closed during the Mad Men era. Engaged employees feel they're part of a team that's doing things for the good of the company which is, in turn, good for everyone. Share the bigger picture with them.
Base feedback on evidence, not opinion: A great coach prepares with Key Performance Indicators (KPIs), company goals, and other concrete data to measure against performance. We're all familiar with the incoming call preamble: "Calls may be recorded for training purposes." Use them! Real-life examples, such as those provided by using a software tool like ProcedureFlow, simplify and shorten coaching and training.
Micro-coach: Seize moments between meetings where a little coaching could help a team member. Why make a note for the future when a brief aside resets the course immediately? This requires a high level of awareness and a gentle but firm touch when it comes to dispensing tips.
Set clear next steps: Leave no guesswork about expectations and offer them in short-term windows that are easy to manage. Look at comparing days before weeks, weeks before months, and months before years. Track incremental improvements much like the adage, "Watch the costs and the profits will take care of themselves."
Make it fun: Work is important, no question. And profits and losses are serious business. But frankly, you're not doing pediatric brain surgery. So why not have a little fun while you're working on bettering yourselves? An incentive program tied to performance doesn't have to cost big bucks. It can range from small monetary bonuses to recognition to a fun freebie. Plus, a little healthy competition never hurts.
Everyone needs a little guidance and a course correction from time to time—and customer service coaching is the key. Coaching for customer service helps your team reach and maintain maximum performance that directly impacts CX. And that's what being in business is all about.
To find out how ProcedureFlow can help your employees reach proficiency faster, book a demo today.
Written by Lisa Brandt